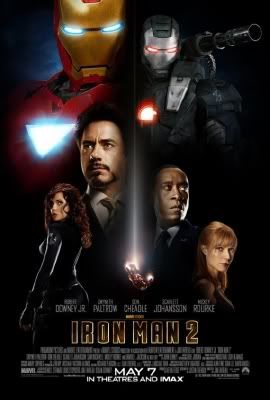 I'll admit it: when Iron Man came out in 2008, I pretty much had to be dragged to it by my much-more-enthusiastic-for-comic-book-movies brother. The trailer hadn't made it look particularly interesting or different, and I was skeptical about their casting choice for Iron Man. Robert Downey Jr.?? Wasn't he one of those guys who got famous, took up drugs, and fell off the end of the earth?? But I went anyway and I loved it. It was action packed, Robert Downey Jr. did a fantastic job, and it was unexpectedly funny, which endeared me to it instantly. Needless to say I jumped on tickets for the Thursday night midnight premiere of Iron Man 2 like a fat kid on a Smartie. The basic story for the film went something like this:
A slowly dying Tony Stark must pull himself out of his downward spiral of partying and eschewing his responsibilities to stop the military, his competitors in the arms business, and a bitter Russian physicist, who have teamed up to steal the iron suit technology.
I seem to be in the minority here among both critics and normal people but I loved Iron Man 2 less than Iron Man. (I'm used to it – the same thing happened with Batman Begins/Dark Knight) I think part of it is my instinctive loyalty to whatever I see first, but it's more than that.