If you're even remotely connected to civilization, you can probably name about 30 horror movies made in the last twenty years that were not worth the time it took to watch them, let alone the 5-10 dollars (depending on whether you rented it or saw it in the theaters) you had to pay for the privilege of finding this out.


I'm not naming any names, but…
You know the kind I'm talking about. They seem to be made according to a set of golden rules that go as follows:


1. Monster creatures/bad guys must spend as much time on-screen as humanly possible regardless of special effects quality and should never enter a scene unaccompanied by a loud blast of music.
2. Human characters must be as boring, whiny, and/or stupid as possible and explode like a bag of blood with a grenade in it when so much as grazed.
3. "Surprise" endings must be neither surprising nor the end of anything at all.

Getting a whiff of any of these tenets via the trailer is enough to send me and my money in the direction of another (ANY other) theater. (Congratulations, Midnight Meat Train
you made me watch The Mummy: Tomb of the Dragon Emperor
)
In the interests of securing better entertainment for myself and my fellow moviegoers and more money for filmmakers (though only as a byproduct) I thought I would make this guide on how to make a movie that I will pay money for, using two films from 2007: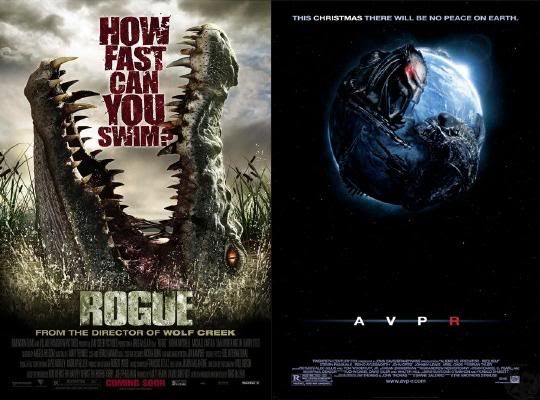 Rogue —- and —- Aliens vs. Predator Requiem
… as examples of what to do and what not to do, respectively. Rogue, despite its thoroughly generic poster, was surprisingly good. AVP:R also surprised me. Not by being bad, but by the depths of its horribleness.
Spoilers follow for AVPR. I consider this a favor to you, the reader. I'm saving you from having to waste two hours of your life watching it when you could stare at a blank wall instead and feel that your time was better spent.
I won't spoil Rogue, however. That one you need to watch.

Read More