That's right, children. It's time to talk about our favorite planet-saving mulleted early 90's superhero:

CAPTAIN PLANET
and his ring-bearing friends, one from each continent (left to right):
MATI (South America) with the power of HEART (which equals Doctor-Doolittle-eque powers)
GI (Asia) with the power of WATER (ie. control over wet things)
KWAME (Africa) with the power of EARTH (ie. control over seismic activity and ground related things)
WHEELER (North America) with the power of FIRE (ie. his ring is like a flamethrower)
LINKA (Europe) with the power of WIND (ie. can move more air than a normal person)
and JED (Oceania) with the power of INVISIBILITY (ie. his continent wasn't important enough to warrant a Planeteer)
And when they combine their powers, they create:
CAPTAIN PLANET Captain Planet has all of their powers, plus he's blue!
I guess individually the Planeteers were so dumb that if they tried to combine their strengths by working together they'd end up blowing in an army of dirty, flaming gerbils: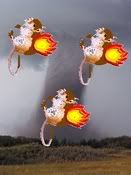 …to spit the bad guys into submission.
Anyway, say what you want about its cheesiness, but you have to admit it was way ahead of its time! The government is only now starting to push people toward being environmentally friendly.
But we, the planeteer generation say: way ahead of you! We knew the power was ours long ago. Now if you'll excuse us, we have to go trim our green mulletts.

Buy Captain Planet Stuff