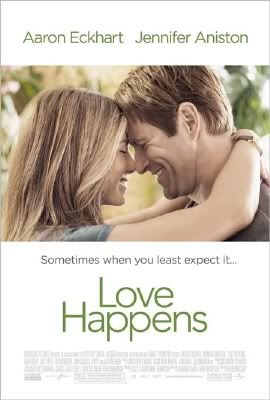 So, you remember that "recession" thing, right? The one where everyone stopped making so much money and had to cut back on fun stuff? Well, if you're disappointed I'm not reviewing a theatrical film and looking to lay blame, lay it on the recession. I actually have to PAY for my tickets, remember? Anyway, so today's film is Love Happens, which was released last year but is not a remake of the film of the same name from ten years ago that you've probably never heard of but will come across if you IMDB the title.
THIS Love Happens stars Aaron Eckhart and Jennifer Aniston goes something like this: A new relationship with an eccentric florist forces a psychologist who leads seminars in grieving to finally come to terms with his own loss.
Sounds depressing, right? And maybe also a little boring and formulaic? Yeah, it did to me too when I read the blurb, but these two actors have a decent track record for picking movies so I gave it a shot and liked it.
Click here to see why I would call it interesting, hopeful, and only semi-formulaic:
Read More