Pages from the diaries of:

EX-COLONEL SAUL TIGHE
Dear Diary,
Ouch. Ow. Ow. Ow. How long have I been in here? What? Really? That long? Ellen's doing what?! Well really, the only solution is to blow ourselves up. And by ourselves I mean yourselves. I've only got one eye now so I get to sit out.
CAPTAIN KARL "HELO" AGATHON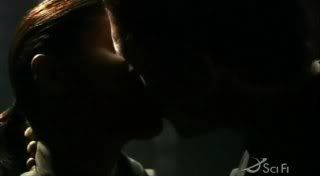 Dear Diary,
Yup. I'm still here. And I'm still married to a Cylon. And you know what? I'm kinda enjoying it right now. So go away.
EX. LIEUTENANT FELIX GAETA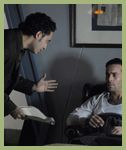 Dear Diary,
I'm in a pickle. Baltar keeps signing his name to things. Whatever they put in front of him. Granted, a lot of them are cheese acquisition forms. Those cylons love their cheese. But sometimes they'll slip in an execution order…or 200…and then it gets less cool. Because no one knows it's me flipping that dog's bowl over. And when this is all over I don't want to end up on a meat hook. Yes, a pickle indeed.
EX. LIEUTENANT TUCKER "DUCK" CLELLAN
Dear Diary,
You might want to step back a bit. No. Further than that.
SAMUEL ANDERS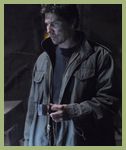 Dear Diary,
Caught sight of myself in the mirror today. Yowza. Still got it.
EX-PRESIDENT LAURA ROSLIN
Dear Diary,
I told you so! I did! I so did! I told you so I told you so!!! Okay, I just had to get that out of my system. Oh well. I'm a teacher. Let's make this a learning experience. The moral of the story: no matter how shitty things get, they can always get shitter. Oh, hang on, the truck to take me out to the mass grave is here. Gotta go get shot. Later!
COMMANDER LEE ADAMA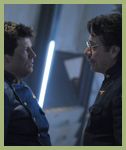 Dear Diary,
Stupid Kara. Stupid stupid going to the planet with stupid Anders Kara. Stupid dead Kara. I'm so not going back for you. Nope. So not. Cause I'm married now. To…uhhhh…umm…one second I know this one…oh yeah, Dee! And she's…there. Yeah anyway Kara I don't need you anymore. I need noodles. Lots of noodles. And to yell at my dad…..and just maybe….directions to the gym. NOT that that means I want to go back or anything. It's just…certain people…certain Kara people…can't see me fat. And it's hard to hold a pen in my fat sausage fingers.
EX-CAPTAIN KARA "STARBUCK" THRACE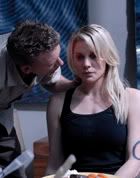 Dear Diary,
Killed Leoben today. He'll be back in a couple hours though. Wow this is repetitive. He just cannot get it through his thick head that I am NOT destined to fall in love with him. But you know what does get through his thick head? Chopsticks. I'm not allowed to have those anymore. In fact, I'm not allowed to have knives or forks or chair legs or window panes or shoelaces or stairs or rugs or paper or….oooh! Here comes Leoben! I just found something better to do with this pen. Later!
Buy Battlestar Galactica Stuff