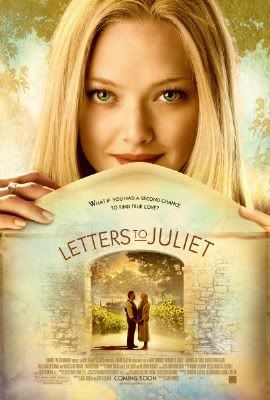 This week was my friend Angella's birthday (Happy Birthday, Angella!) on Tuesday so I allowed myself to be coaxed out to the theaters instead of hiding at home with my DVDs and a copy of the bank statement from my trip to Europe. In our town, Tuesdays are cheap days (only $5.99), so Tuesdays are now also known as The Only Day I Will Go To The Theater ("Tuesday" is shorter). Lucky for me Angella chose to see Letters to Juliet, which was the best option I could have hoped for seeing as how Gunless had already gone and I'd already seen Iron Man 2. (Furry Vengeance…. shudder.)
The blurb for Letters to Juliet, if I got to write it (and I do, at least on THIS website), would go something like this:
A fact checker gets a shot at writing and true love too when she travels to Verona and replies to a fifty year old letter to Juliet, bringing the woman and her handsome grandson down from Britain to reconnect with her old love.
It sounds like an interesting setup, if you like that sort of thing. But would it turn out to be just another lazy Turbo Romantic Comedy, where everything whisks by so fast you barely have time to eat your popcorn?
The short answer is no. The thing I like best about Letters to Juliet is that the film takes its time. Screenwriters Jose Rivera and Tim Sullivan (two dudes writing a love movie… does that happen often?) take their time with both the setup and the payoff, letting us get to know the characters first rather than dropping them directly into the plot as soon as the opening credits are over. Throughout the film, there's enough time to breathe and take in the scenery, which is nice. Really nice.
Like point the camera in any direction for romantic vista nice.
But of course we have to get into the plot at some point. We can't spend the entire movie watching Sophie (Amanda Seyfried) be an excellent fact checker who won't ask her boss at the New Yorker for a chance to write a piece, or hanging out in a half finished restaurant looking at Sophie's boyfriend Victor (yes, Sophie has a boyfriend… this surprised me too) hanging noodles on every available surface.

This is like one bowl of spaghetti… where's he going to hang enough noodles for a whole restaurant?
So Sophie and Victor jet off to Verona (the famous home of the original lovestruck emo couple Romeo and Juliet) for what she thinks is a pre-honeymoon (yes, Sophie is engaged to Victor… I was surprised too) and what he thinks is a food-tasting tour to find suppliers for his new restaurant. Clearly Victor is not her "one true love." If he was, he'd probably find her slightly more interesting than cheese.

Hey Sophie: He's Just Not That Into You (whoops, wrong movie)
Naturally Sophie gets bored and wanders off into town on her own. Everyone in Verona miraculously is able to speak English (seems unlikely, but maybe they really can – everyone in the Netherlands sure did) and from them Sophie learns that brokenhearted women from all over the world write letters to Juliet asking for romantic advice. (Really? Juliet is their role model? No wonder they're brokenhearted).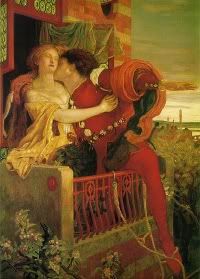 Oh Romeo, let us conceive of the stupidest possible solution to our problem and then screw it up.
Sophie falls in with the group of Italian women whose job it is to write back, because Juliet, being both fictitious and dead, cannot. Kind of like Ann Landers. Anyway, Sophie finds a fifty year old letter behind a brick from a woman who wanted to run away with an Italian instead of going home to Britain to get married. (Apparently they had Gap Years in the 1950s too, but probably with out the Ecstacy and Facebook updates.)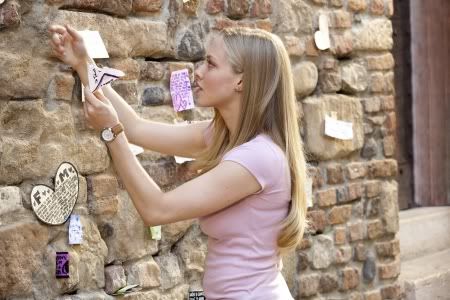 I dunno about you, but if I needed advice on men, I'd totally ask a wall. It and said man would have the same lack of listening skills.
Low and behold, the woman (Claire, played by Vanessa Redgrave) turns up with her cranky, skeptical, attractive grandson Charlie (Christopher Egan) in tow. Her husband is conveniently dead, and she's on a mission to find her Italian lover Lorenzo, whose wife is probably also conveniently dead too. Sensing her chance to write a cracking story, Sophie tags along.
Only to not pay attention half the time because she's texting her moron boyfriend
Here endith the setup. Wasn't that nice? It takes at least 20 minutes of screen time. During that time we get to know everybody, with the exception of Charlie. In fact, one of the film's major flaws is that we NEVER actually get to know Charlie. The movie is all about Sophie, so apart from a brief mention of his irrelevant profession and family situation, all we really know about him by the end is how he is around Sophie.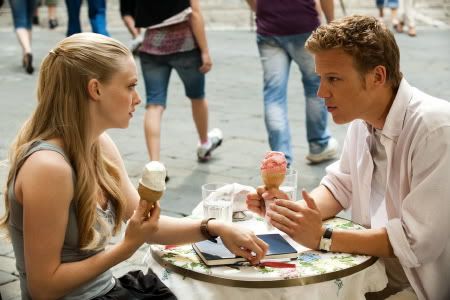 And that he likes strawberry ice cream
Actually, the strawberry ice cream thing brings me to another problem I have with this movie. Amanda Seyfried and Christopher Egan are adorable people, so put them together and you get 2x the adorableness, but in a really bland sort of way. They're both pale, blond, blue-eyed examples of the Master Race. It almost looks like they could be related (ew) and the blandly encouraging way they get on (after Charlie gets over his crankiness, naturally) is almost boring.

a couple Hitler would approve of
At least existing boyfriend Victor is interesting, even if his whole "let's be excited about every edible thing in Italy" persona gets a little (okay, a lot) one note. But at least the writers realized they didn't need to make him a complete dickhead for us to realize he wasn't suited to Sophie.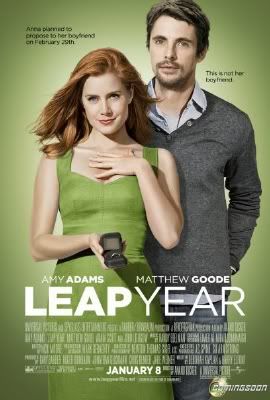 like some other movies I could mention…
But for most of the movie Victor's off doing his thing and the Lorenzo-seekers are off Lorenzo seeking. Apparently being called "Lorenzo Bartolini" in Italy is like being called "John MacDonald" here in Cape Breton, because every second guy has the name.

"I'm Lorenzo Bartolini!" <– most uttered phrase in Italy
Enter Sophie and her amazing fact-checking skills. We never actually see her doing any fact checking, though. The other characters just say something along he lines of "good thing you did that fact checking, Sophie" every once in a while in case we forget what her day job is.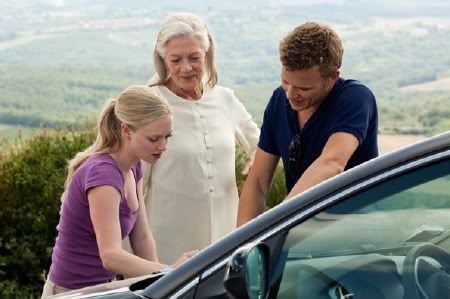 Hang on, pull over, I have to spread this map on your hood and point knowingly.
They travel all over the place, staying at nice hotels and drinking a lot of wine, and I'm thinking: "fact checkers must make an awful lot of money." Seriously, she has an entry level job and an apartment in New York… how is she paying for all the fancy hotels and wine and stuff?

What do you mean, my American Express is over the limit?!
Add to that the fact that Victor's cavorting around the country buying up everything edible to ship back to that restaurant he had enough money to open and you've got a serious unexplained trust fund vortex going on. Luckily no one but me cares about that sort of thing. The average person thinks, when they see a picture like the one below is: "Kiss her! Aw! They're so cute!"

The stars are nice, but now there are bugs and grass down my pants.
Not: "who's paying for all this?" They also tend not to notice that there are an awful lot of phonetic alphabet letters in this movie. Seriously: A Yankee named Sophie, who was raised only by her Papa finds letters to Juliet from a woman whose situation echoes her own while staying in a hotel with her alpha-male boyfriend Victor which leads her to meet her modern day Romeo, a British guy named Charlie and write an article that makes her boss Mike (at least I think that was his name) say bravo!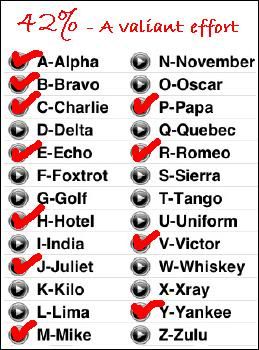 That's nearly half of the phonetic alphabet right there. With a little extra effort, they could have had the full set. Watch: Amanda Seyfried's character is named Sierra instead of Sophie and she's upset because she's taking her trip in November, just when her dad from Quebec is getting called back into uniform because his x-rays say he's clear of cancer, Charlie is descended from Zulus and is cranky because he'd rather drink whiskey and play golf than watch his grandma do the conversational Tango with a million Italians. The characters stay at a Delta chain hotel where the manager, Oscar, is a former Foxtrot champion from India who has put on a few kilos due to his love of lima beans.

I don't know about you, but that sounds like a really interesting movie! However, if you're going to the theater, you could definitely do worse than settling for the cut-rate phonetic alphabet version. It's sweet, reasonably funny, well paced, and except for the last few minutes, not dripping in buckets and buckets of sap. I wasn't sorry I paid money to see it, and considering how little money I have right now, that's saying something.

Buy Letters to Juliet on DVD