For all intents and purposes, the terms "middle school" and "junior high" are interchangeable to North Americans, as which one your kid will attend between elementary school and high school varies between states, provinces, and sometimes even school districts. However, if you see the synopsis for Diary of a Wimpy Kid:
A boy with an inflated opinion of himself but no real social skills attempts, through any means necessary, to become popular during his first year of middle school.
…and think "oh, my son/daughter/niece/nephew/ward/charge/etc is in junior high, I should take him/her to see this move and then he/she will be impressed with how well I understand him/her and it will foster a new spirit of openness in our relationship" you are in fact cementing your status (forever) as a clueless adult to which no information on life should ever be imparted (ever).
You see, the difference between middle school (which usually consists of Grades 6-8) and junior high (Grades 7-9) is only a year, it's a huge year in the development of a child. (FYI, even if your kid actually is in middle school he/she probably still won't be impressed if you deign to suggest that this might be a good movie to see.)
What many parents, caregivers, and older people don't know/don't remember is that kids are so desperate to grow up that they actively shun material designed (by adults, naturally) to appeal to their age group. Hence four year olds want to watch shows designed for six year olds, six year olds want to hear stories written for ten year olds, ten year olds are already imagining themselves to be at least sixteen, and thirteen-and-ups aim for eighteen and beyond. Thus, a movie starring twelve year olds and aiming to hit the middle school demographic will actually wind up being popular amongst 7-10 age group.

So your best bet is to take the age of the protagonist and subtract a few years to see how old its fans will be.

This is especially true of Diary of a Wimpy Kid, which purports to be all about learning to cope with the more grown-up world of middle school, but actually is just a series of elementary school-type gross-out jokes. At one point there's even a cooties-like scare involving a rotting piece of cheese out on the playground (the fact that there's a playground should probably be a dead giveaway that their school is more elementary than junior high).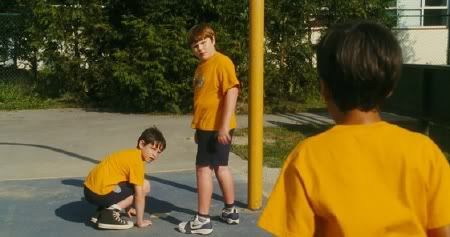 Ewwww! He touched the cheese! Let's all shun him and squeal childishly!
The kids themselves are meant to be in their first year of middle school (sixth grade, which would make them about twelve) but they look and act like ten year olds. The child actors aren't exactly prodigies, either, so the kids come off as awkward and stilted, like a kid performing in front of adults rather than interacting with other kids. This is especially true of the main character, Greg Heffley (Zachary Gordon). As much as I hate to take a kid down, he is almost painful to watch.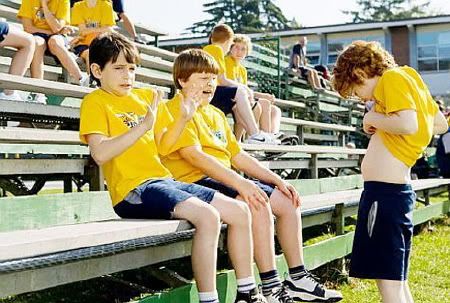 And now I react in a self-conscious manner and try not to look at the camera.

It also doesn't help that Greg Heffley isn't so much a wimpy kid as he is a total jerk, tromping all over his friends, family, and the younger kids he's supposed to be looking after in his clueless, hopeless schemes to wrangle a spot in the yearbook (and therefore lasting fame and fortune). He's very hard to back as a protagonist. I've developed more sympathy for serial killers and evil villains than for this annoying brat.

He's especially horrible to his supposed best friend Rowley (Robert Capron)- that kid next to him talking with his belly

The goal of landing a spot in the yearbook serves as a tenuous link between otherwise unconnected incidents. Greg ruining the school play, Greg getting trounced by nerds and girls at wrestling club, Greg and Rowley getting chased by teenagers while trick-or-treating, etc. None of it really moves the plot or develops character, and it didn't take long before I started wondering where it was all going (answer: nowhere).

Random Thing That Happens: Take 1!

It's not much of a plot, but it's actually more than you get if you read the book the movie is based on. The Wimpy Kid series of books by Jeff Kinney have become inexplicably popular (among 7-10 year olds, no doubt), probably because the text is interspersed with cartoons.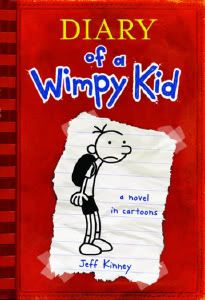 "A novel in cartoons" is inaccurate. It's actually "a novel WITH cartoons."

While I thought the text-and-cartoon approach was a great idea (especially when it comes to enticing boys to read) I wasn't terribly impressed with it. Other than the cartoon thing, the book blazed no new trails that other (better) books hadn't already covered, and the movie is nearly identical, except for adding a token female character (played by Chloe Moretz of Kick Ass fame) who serves no purpose for plot or character development and is only in a few scenes.

She's obviously gotten a bit taller since
Kick Ass
. I suppose one realistic thing is having the girls look and act five years older than the boys.

Presumably this was a feeble attempt to attract a female audience. For once I have no opinion on whether the book or the movie is better, as I dislike both equally. In the author bio at the back of Diary of a Wimpy Kid Jeff Kinney is described as one of Time Magazine's 100 Most Influential People in the World and I thought… "not for THIS, surely? He must have been a former CEO of a large company before turning to writing."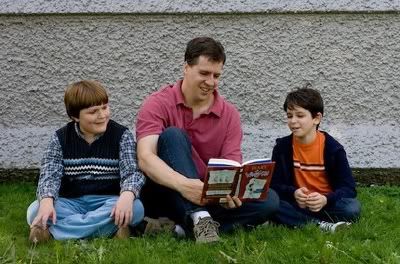 Though he would have to have been an awfully young CEO

But in fact it WAS for the Wimpy Kid books (which are misnamed. Greg isn't a wimp, he's a jerk. Or perhaps a twat-donkey. Doesn't Diary of a Twat-Donkey have a much better ring to it?). Also on Time magazine's list for 2009: Zach Efron, Tiger Woods, and the guys who invented Twitter… which I guess says a lot about our culture (to be fair to Time, they didn't have separate lists for good influences and bad influences).


I hope you're proud of yourselves

Anyway, if you're one of those parents that won't let your kid watch The Simpsons because you're afraid your kid will start burping loudly like Bart (hi mom, hi dad), don't take your kid to this movie, because Greg Heffley definitely falls under the umbrella of "bad influences." Beaning your best friend with footballs until he breaks his arm is irredeemably douchebaggy, even for a ten year old. He does, of course, get his comeuppance, but by then the damage will already be done.

By about two minutes into this movie, you'll be DYING for this kid's life to be ruined. He deserves it.
If you're any other kind of parent, you still shouldn't bother with Diary of a Wimpy Kid, especially if your kid is older than ten. If your kid is younger than ten or is a fan of the books, be aware that if you accompany him or her instead of sending him/her with friends, you're in for an experience that's about a five out of a possible ten drill bits. There's approximately one joke that anyone over twelve will find even remotely funny.

Oh ha ha, you fell over wearing a tree costume. This is the height of humor.

And before you tell me I just can't appreciate the movie/book because I'm an adult and therefore fundamentally incapable of enjoying children's entertainment, I would like to bring to your attention the fact that I own copies of Hoot, Air Bud, and Curious George. So trust me when I say: spend your ten bucks on something else. Perhaps How to Train Your Dragon for younger theater-goers and Kick Ass for actual junior high schoolers. Don't flush your cool parent rep with this drivel.

Buy Diary of a Wimpy Kid Books, DVDs, and Stuff