This week I wanted to do a cat version of the article I did last week and lay out my top ten favorite movies about cats.
…And then I realized that I could count on one hand the number of movies I'd seen that were actually ABOUT cats, and most of them started with "G" and ended in "arfield."
It's not that I couldn't be happy watching Garfield's Halloween and Christmas specials
on an endless loop…

hand over yer booty!
…but that might drive some other, weaker minds to eat themselves in a desperate attempt to end the agony.
So instead, we're going to explore kitty stereotyping in film and some of my favorite exceptions to the Hollywood rule.



#1 THE EVIL VILLAIN
You know this type. These cats are the cackling, palm rubbing opposite numbers to doggie heroes. Sometimes they control armies of cat or mouse minions, other times they sabotage the dog's reputation with human owners, but one thing stays the same: the need for total world domination.
This type of cat is always animated in some way shape or form, as being evil requires the villain to spout long soliloquies and/or rail at the heroes when their plans are ruined.
It doesn't take a genius to figure out where this one came from. Picture a screenwriter sitting at home with a cat and a dog. One is cheerful and desperate to cater to her every whim, the other sleeps all day and deposits dead mice on the doorstep. This translates in her mind to: my dog loves me and my cat hates me, which must naturally mean that cats are evil and dogs are heroic. So in 9 out of every 10 dog movies, the villain they're fighting is a cat.
NOTABLE EXAMPLES:

Mr Tinkles (Cats and Dogs
) — FatCat (Chip 'n Dale Rescue Rangers
) — Si and Am (Lady and the Tramp
)
#2 THE ENIGMATIC GUIDE
Enigmatic guide cats are the ones who turn up close to the beginning of a human character's adventures and follow them around, occasionally dispensing useful nuggets of information in between demands for food or patting. They're frequently a source of frustration for the guide-e, since there's no predicting or controlling what they'll do next. This type of cat is always animated or animatronic as well, as it's very hard to give someone advice if you can't speak.
The origin of this one is pretty clear too – Lewis Carroll got this trend started when he wrote the Cheshire Cat into Alice's Adventures in Wonderland. It's easy to see why he would portray Alice's mysterious adviser as a cat, as felines have always been a mystery to humans. What are they thinking? Why do they sometimes shift suddenly from couch scratching menace to heroes who save their families from fires and back again? What do they know that we don't?
NOTABLE EXAMPLES:


the Cat (Coraline
) — Aslan (The Chronicles of Narnia
) — Salem (Sabrina, The Teenage Witch
)
#3 THE VILLAIN'S ECCENTRICITY
These are the cats you see on the laps of evil humans bent on taking over the world, presenting a slight fluffy incongruity with the rest of the villain's harsh, hard-edged nature. These types of cat almost never talk, or even leave the laps of their owners. They're less of a character than a set piece.
I'm not sure where this trend started, but it's not that big of a logical leap to say to yourself "hrm, cats are evil, my villain is evil… I know! I'll give my villain a cat!"
NOTABLE EXAMPLES:


Mr. Bigglesworth (Austin Powers
) — MADcat (Inspector Gadget
) — Vito Corleone's cat (The Godfather
)
#4 SET DRESSING
This is the category almost all cats in live action films fall under. They're given to human characters in movies in place of posters or bookshelves to illustrate some facet of their personality. For example, perhaps they're sad and lonely and their only friend is an animal, or that despite their rough treatment of people they really love animals.
The reason why cat characters in live action films are nothing but background is that it's very difficult to train a cat to fetch and carry and pretend to care for actors. Unless for some reason the cat WANTS to do it, it's just not going to happen.
NOTABLE EXAMPLES:


Spot (Star Trek: The Next Generation
) — Fat Louie (The Princess Diaries
) — Jonsey (Alien
)
EXCEPTIONS
While Sylvester and Tom, two of the most famous screen cats, fall under the first category, others, like Garfield and Felix do not. There are a smattering of other, less well known rule-breakers like Crookshanks (from the Harry Potter
films), Oliver (from Oliver and Company
), and Furrball (from Tiny Toon Adventures
) as well.
Oliver's personality wasn't created for him – it's an adaptation of a human character from Charles Dickens' novel Olvier Twist. Garfield and Crookshanks are adaptations as well (from a comic strip and a book series, respectively) but were at least always meant to be cats.
Garfield, originally created by comic strip writer Jim Davis, is lazy and manipulative but also loving and funny. Crookshanks, the troublesome yet intelligent feline J.K. Rowling dreamed up as a pet for Hermione unravels a mystery involving werewolves. Furrball actually walks on four feet and acts like a normal untalkative cat, which is unusual in animation.
However, my very favorite is MITTENS, from Bolt
.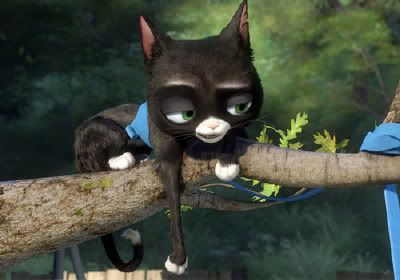 "now I'm concerned on a number of levels"
Through Mittens, the screenwriters of Bolt are able to acknowledge the stereotype of the evil cat and then break it. Cats are the villains in Bolt's TV show, but in real life Mittens' grows from being cold and manipulative to loyal and encouraging, and for the whole movie, she's the smart one – the voice of reason.
A close second to Mittens is PUSS IN BOOTS, from the Shrek 2
movies.

"My name is Puss!…. in boots."
Puss is a rare balance of macho swordfighting bravado and fuzzy adorableness. He's kind of like Zorro crossed with a Tribble. Despite the fact that he talks and walks on two legs most of the time, he's not so humanized that he loses his catness. He still eats mice, licks himself clean, and yacks up hairballs.
Although they aren't my favorites, KUMAL and SUNGA from Two Brothers
and DUMA from Duma
definitely deserve a mention here, because as far as I'm concerned, they're the most impressive.

Kumal, Sunga, and Duma
These three are the only feline film characters that I can think of who are entirely live action. They also manage to convey emotion and further their stories without the help of voice-over dialogue from humans.
Neither Duma, Sunga, or Kumal are domestic cats though, which makes you wonder – why are the big, wild, supposedly uncontrollable animals the easiest to work with on a film set? Surely if someone has managed to train tigers and cheetahs to act they could just as easily supply a housecat fit to star in a live action film… if only someone would bother to write the script for one.