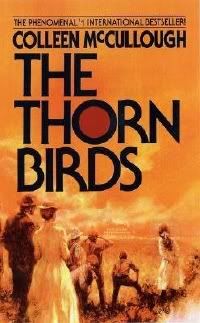 For the longest time, whenever I heard "The Thorn Birds" I thought of "The Thunderbirds
". The former is a novel by Colleen McCullough about the Australian Outback in the 20th Century and the latter is a British television drama featuring marionettes who fly toy rockets and rescue people.
When I did finally get around to reading the Thorn Birds book
and learned that it was awesome, I borrowed the video of the Thorn Birds miniseries
.
It's about a girl named Meggie who moves to a sheep station in the Outback with her Irish family and falls in love with an older Catholic priest named Ralph that she can't marry but keeps trying to bone anyway. For years. Her other family members play into the story as well, as does the Vatican, World War II, and Queensland being very hot, but for the purposes of the miniseries and therefore this review, they're largely irrelevant.
Usually I feel slightly guilty about not paying for things but am I ever glad I didn't hand over any money for this one. It saves me the trouble of demanding it back.


The IMBD user reviews describe The Thorn Birds as "One of the Best Miniseries Ever Made" and "Great Story and Even Better Performances." There's not one that was negative. All I could think was: are we watching the same movie here?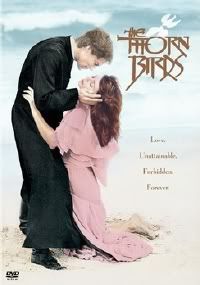 The one starring people with very flexible backs?
Two minutes into this movie, I wanted to turn it off for blatantly lying to me.
I can overlook the fact that Meggie Cleary (Sydney Penny) is supposed to be red-haired and Irish but she talks American and looks Hispanic. Casting is hard.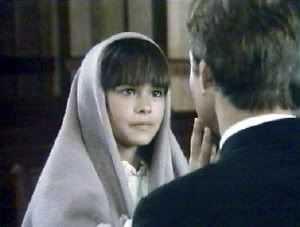 let's not even get into the fact that she's 10 and in love with a 28-year-old Catholic priest
I can (sort of) even overlook that her accent doesn't match up with her family's accents (they're all over the place, ranging from British to American to fake Irish and back again) or even her own accent at a later date (she's Rachael Ward later). Dialogue coaches/acting classes cost money.

Oh honey, I'm so glad you grew out of your awkward Hispanic phase. Emphasis on the growing part, because now I can mack on you without getting arrested
But I draw the line (about three minutes into the movie, I might add) when Richard "So Obviously Not Irish" Chamberlain and Barbara "Made in NY" Stanwyck stroll in and announce (in American accents) that they are Irish.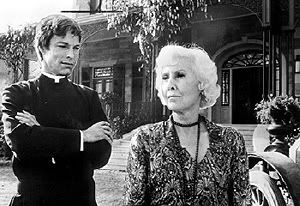 "I'm so glad I'm Irish that I might dance a jig… if I knew how."
"Yeah, me too. Down with the English or something. We're so Irish!"
Uh, no, you're not. And shut up.
Their characters, Ralph de Bricassart and Mary Carson are from Ireland in the book, but there's no semblance of Irishness in either of the actors.
I looked it up (because by this point I was pretty sure there was no possible way this was an Australian production) and sure enough, it was made in America. I guess that explains why there are so many hills in the landscape. They never even set foot in Australia while they were filming! It was all in frigging California! Sheesh.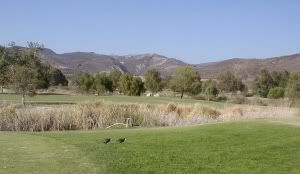 the Simi Valley, where they filmed this movie. Notice how it looks nothing like: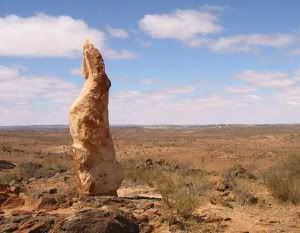 Broken Hill, NSW… otherwise known as the actual Australian outback
I think Bryan Brown is the only actual Australian part of this movie. It was his name on the opening credits list that fooled me into thinking this might actually be decent, because he seems to appear in about 3/4 of all Australian films, and they're all good.

Hello, I'm Bryan Brown. I'll be your token Australian this evening. Don't blink or you'll miss me
…or so I gather that he's in it, anyway, from reading the IMDB summary. His character, Luke O'Neill, doesn't show up until about halfway through and I gave up on this travesty at around the 36 minute mark (not that I didn't want to turn it off earlier, I was just trying to give it a chance)
I guess my real problem with this miniseries is that it's inconsistent. (I know I'm using the words "movie" and "miniseries" like they're interchangeable, but at 7 hours long, The Thorn Birds is definitely a miniseries.)
Movies like P.S. I Love You
have shown us that changing the nationality of characters in a book for the movie adaptation is perfectly valid and sometimes even makes it better, while movies like Bridget Jones Diary
have proved that Americans can, in fact, fake accents convincingly.
I realize that at the time, the producers didn't have the budget to go into the Outback or the faith that their xenophobic audience could relate to anyone besides other Americans, so I understand why they chose to film in the USA with no accents. But there's no excuse for the fact that some characters have them and some don't, or that they tell us IN THE DIALOGUE that they should have an accent when they don't. If you're not going to play it with the accent, just take the line out. Make Father Ralph American. His country of origin has no bearing whatsoever on the story anyway.
Of all the things that are getting remade these days, movies/mini-series like The Thorn Birds should be at the top of the list but aren't. (In other words, Please PLEASE stop filming the remake of Red Dawn
immediately.)
In contrast to Red Dawn, which is beyond help, The Thorn Birds would be very easy to fix. Re-film it, but in Australian this time. God forbid any of the IMDB discussion board users' suggestions for remake casts get used. Clive Owen? Kiera Knightly? TOBEY MAGUIRE?! In what universe are these people even remotely Australian or Irish? (or good at acting) (for the record, English does not equal Irish, and you will be shot in Ireland for suggesting that this is so)
What I don't know is why everyone goes straight for the Americans and the Brits when there are so many obviously awesome Aussie actors.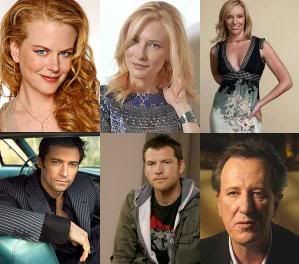 for instance, recognize any of these people? Yeah, that's what I thought.
FYI that's Nicole Kidman, Cate Blanchett, Toni Collette, Hugh Jackman, Sam Worthington, and Geoffrey Rush, and yes they're all Australian.
Actually, I do know exactly why the comment posters picked who they did: because they're American.
I am on a quest to learn more about Australia: the landscape, the people, the dialect, but even I know more about Australia than this miniseries just from reading Wikipedia articles and watching old episodes of "Love My Way
."
If, like me, you're looking to learn about the Outback, your seven hours would be better spent watching "We of the Never Never
" and rolling 4,786 pencils down your driveway.