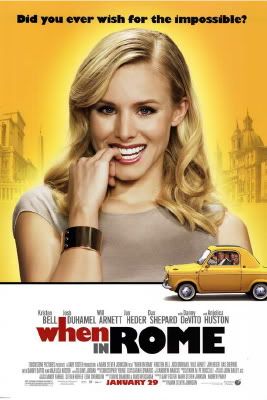 When in the movie theater, you do as other movie theater-goers do: buy a ticket and see a film. I tried to follow the masses, but I was thwarted in my efforts by a little sign hanging above the kiosk that said "Dear John 6:55 SOLD OUT." It seemed a bit like the theater owner was telling someone named John that something called 6:55 was sold out, it was actually telling me I couldn't see the movie I wanted.
So I abandoned my sheep-like efforts to be part of the in-crowd and blazed a trail to Rome. Or, more accurately, to theater #1, where When in Rome was playing. I'd seen the trailer and had some hope that despite a dumb sounding setup:
A workaholic who doesn't believe in the magic of love is forced to re-evaluate her position when she takes coins from the fountain of love and ends up with five magically spellbound suitors, one of whom she's actually interested in.
…it could turn out to be okay. Was it an improvement on what I originally had planned? I don't know. That will have to wait until after I've seen Dear John. It's probably not, but it was worth a look.

Read More