I think I might be a bad browncoat, but before I tell you why, let's get one thing straight: I love the 'verse. So don't freak out, but I think I hate TV.
devil box o' torture
And I'm therefore kinda sorta glad that Firefly was canceled and turned into a movie instead. (But I wouldn't be glad if it was cancelled and there was no movie)
Why am I glad? Because I love movies. I like movie stories about a thousand times better than dragged out one-hour-a-week-supposing-its-not-a-repeat storytelling by multiple writers (each with different takes on what bits are important) where the characters lives are divided into little chunks that half the time aren't even related to each other and they have to keep coming up with stupid reasons why it's taken two seasons to get two characters together only to have one die or something so that the other can remain miserable. I hate it.
Know how I figured this out? I looked at the shows I regularly watch on TV, and the ones I refuse to by gut instinct. I watch: CSI, CSI: NY, NCIS, Without A Trace, Criminal Minds, Ghost Whisperer, Numb3rs, Survivor, the Daily Show, SNL and whenever I can catch a new one, the Fairly Odd Parents. Nothing else. I follow my gut and refuse such things as Lost, Desperate Housewives, etc.

Hi, we have no real lives for you to get frustrated with
So let's break it down:
Survivor – reality show, no real direction of story
CSI et all – crime shows with weekly self-contained stories
FOP – cartoon with no episode arcs
and funny daily/weekly sketch comedy
In other words, I've completely rebelled against the kind of TV show that Firefly was.
Now, when the X-Files, Buffy and Angel were on, I watched them, got completely sucked in, and was kind of glad when they were over because it felt like it'd been dragged out too long. Also, the story had gone places I really didn't like. (Though I admit Dogget and Reyes did grow on me)

Yeah, yeah, you guys were ok
However, with movies, it's one sweeping story, written by one person with one vision with character and story development that proceed in linear fashion instead of in fits and starts. If you don't like where the story goes, you reject the whole movie and you don't end up with those ambivalent feelings towards it. AND you get the whole story at once rather than being feed tantalizing snippets on a weekly basis.
To illustrate, I'll take the example I've been thinking of:
Simon and Kaylee in
Firefly
and
Serenity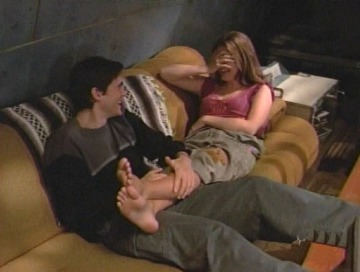 Simon and Kaylee enjoying a laugh before one of them screws up the relationship for the thousandth time
In Firefly, Kaylee (Jewel Staite) and Simon (Sean Maher) had obvious chemistry, but despite repeated attempts to get together never managed it before the end of the series. Either Simon would say something that Kaylee could interpret in the worst possible way, or one of them would get distracted and/or lack the guts to say/do something. This was cute for a few episodes, but after a while it started to get repetitive and a little irritating. No doubt if the show had kept on they would have dragged it out for the whole season (at least).
Total filibustering time: about 15 hours, and still no result

In Serenity, they had obvious chemistry, it stewed, they were oblivious, and they GOT OVER IT and got together by the end of the movie.
Total filibustering time: about 2 hours, with positive result

The funny thing is, despite all my bitching, I really do love Firefly. The stand-alone parts of the episodes were brilliant and funny and touching and I love all the characters. Though, I suspect I might have come to love it (the STORY not the characters) slightly less had it dragged on. And I know I'd go insane between episodes.
Therefore, in my opinion, although we would have gotten MORE story from a long-running TV show, I think we got a BETTER story from the movie.
To sum up:
| | |
| --- | --- |
| Great | Greatest Thing Ever in the World |
There are a number of potential explanations for why I think this way:
1) I have no patience, therefore cannot sit through slow story development on TV

| | |
| --- | --- |
| Attention Span = | |
2) I watched the movie before the TV show, so I look at the TV show as kind of an extra prequel story.

3) I loved Enterprise and then came "These are the Voyages" and it destroyed all of my faith in TV. It was so bad I re-wrote it to ease the pain. And I'm still bitter.

I loved you, then your awesome world was butchered by your own creaters' delusions of being able to write
Buy Firefly: The Complete Series on DVD
If you want a synopsis or a review or whatever of Serenity, go have a look at:
Serenity: The Official Movie Website

But if you want to know the real reasons why you should go see it, keep reading:
I have never loved a movie like I love Serenity since I saw Return of the Jedi when I was nine. Just to give you an idea of how much I loved Return of the Jedi, my parents had to return it to the video store while I was outside playing Jedi with my little brother, otherwise the store would still be looking for it. Every time I went to a store I looked for copies of the Star Wars movies to buy but there were none. Not until they re-released them in the late '90s. I can't TELL you how excited I was for that. And for the prequels too, even though they weren't as good as the originals….I'm getting side tracked. Sorry. I have the attention span of a chimp.
Anyway, that's the kind of love I'm talkin' about. Now this movie Serenity, it sticks in the exact same place in your heart. The story is so captivating that you need more NOW. The dialogue is so clever that even after the movie you'll find yourself laughing out of nowhere because your brain has randomly delivered up one of the lines. The acting and the special effects are flawless – at no point will you point to the screen and say "I don't believe that"…mostly because you'll spend the whole movie with your jaw on the ground, rendering you incapable of saying anything other than "gaaa".
You'll have a hard time choosing a favorite character because you love them all and when bad things happen to them you will discover that it's NOT COOL AT ALL…but that's good, because it means you care, and that's the whole idea. You'll be on the edge of your seat the whole time, and when it's over, you'll not only be pumped to see more (why do movies take so LONG to make!?) (luckily there was a series) (unluckily there are only 15 episodes) but you'll also be pumped to go have your own adventures…even if it's only rescuing helpless boxes of macaroni from your own evil basement lair.
So if you haven't already seen it, now you know you want to. So what are you waiting for? Oh, right, we're in the grey zone: that weird limbo between a movie being on the big screen and on DVD. (is it just me or are grey zones getting shorter and shorter?? [I'm not complaining]) I guess you can download it off PTP but ONLY if you PROMISE to buy it when it comes out on December 20th. (Hah, I don't even need to make you promise cause you'll want to anyway!)
Remember buying the DVD = more return on studio's investment = increased likelihood of said investment being followed my another investment = more Serenity! So now you know what you have to do, now take your money and get out there so I can be watching Serenity II in 2007.

Buy Serenity on DVD